Looking for the best striped bass lures? We asked our resident East Coast angler, Alice, to point us in the right direction. We're definitely going to try running some of these next time we head to the Atlantic. We're also going to try running some on a fishfinder rig. Check out her recommendations below.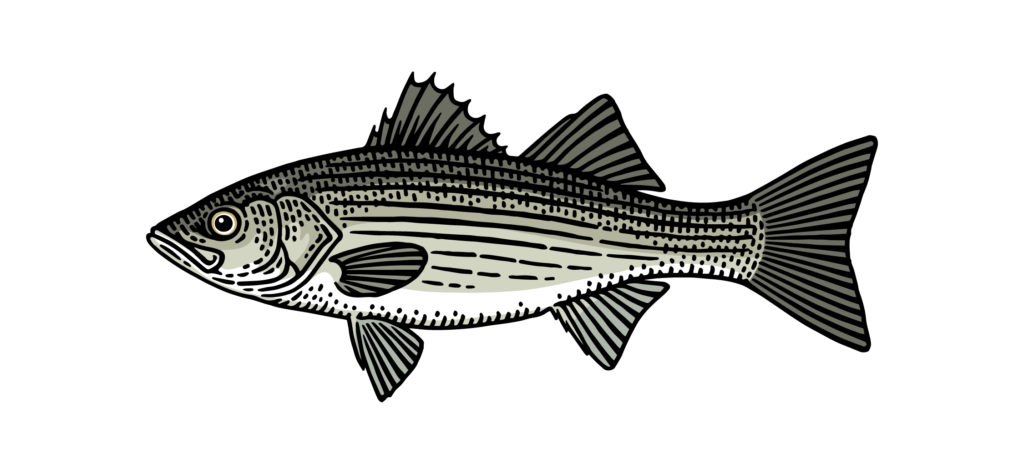 ---
No matter what you call them – rocks, linesiders, stripers, or rockfish – Atlantic striped bass are fun to catch. And with an extensive range stretching from Florida to Nova Scotia, it's no wonder they are considered one of the most popular game fish in North America.
There are plenty of opportunities to catch these popular fish, too. Even though striped bass are considered marine fish, they migrate each spring from the ocean into coastal rivers to spawn. This means striped bass can be caught in salt, fresh, and brackish water depending on the time of year.
No matter where you are along the east coast, there is probably an opportunity for you to fish for these often giant, hard-fighting fish.
Fishermen often argue intensely over the best way to catch striped bass. Get five anglers in a room and you'll hear five vastly different methods preached as the best way to catch them. And, oddly enough, each one of those anglers is probably right.
Fishing for striped bass is tricky business. They are constantly on the move, behave somewhat unpredictably, and can be caught in a wide variety of water conditions, locations, and feeding patterns. Because of this, there are just about as many proven methods for catching striped bass as there are anglers pursuing them.
What works well for small pan-sized rockfish in early spring rivers just isn't going to work for mid-winter deep-water monsters off the coast.
Now we know that most of the die hard striper hunters typically prefer live bait. But, we're fans of the ease and low maintenance of lures. So here are some of the proven options to land more or bigger striped bass.
---
The Best Striped Bass Lures
Ultimately, the "best" lure for catching striped bass is going to resemble whatever the local fish are eating. While striped bass have questionable eyesight, they are most attracted to the motion of their prey. So, the more a lure moves like a baitfish, the more likely it is to catch stripers, no matter what color or pattern the paint job.
Contents:
Fortunately there is a wide variety of lures to choose from for catching striped bass, and each of them can be fished in very different ways. Here is a list of the most common types of lures for catching striped bass.
---
1. Bucktails
The bucktail jig is considered by most anglers to be the quintessential lure for catching striped bass. Simply a weighted lead head and a single hook skirted with fur or feathers, bucktails work in both fresh and saltwater because they convincingly mimic a number of striped bass prey, including small baitfish, shrimp, and squid.
Bucktails come in a wide variety of colors and sizes. Larger bucktails, with lead heads weighing as much as 3 ounces work best for larger, deep water stripers. The smaller sizes, weighing as little as a quarter ounce, work better for smaller fish in shallower water.
You can control the depth of your bucktail by varying your retrieval speed. A slower retrieve allows the lure to swim deeper. A faster retrieve will bring it closer to the water's surface. Incredibly versatile lures, a bucktail can be bumped along underwater structure, or jigged up and down around pier pilings, and even trolled along behind the boat to cover more area.
NERD TIP: To make your bucktail jig even more enticing, try adding a grub tail or other soft plastic to your hook. It adds some action to your lure and makes it look more like a striper's natural meal.
---
2. Poppers
These noisy lures, work magic on schooling striped bass. These are the lures you should reach for when the fish are feeding on top. You can usually spot a school by watching for the seagulls swooping in around a concentrated area. Sometimes you'll even see the baitfish skittering along on top as they try to get away from the big predators feeding underneath.
Poppers are especially effective in low light conditions right after sunrise or just as the sun starts to set. They are also great for choppy water conditions when more subtle baits are easy for fish to miss. This is because they make so much noise and commotion on top of the water simulating an injured baitfish and an easy dinner.
Poppers come in a wide range of sizes. From just a couple of inches, to giant 7-inch poppers designed for saltwater monsters. Choose a color to match the natural color of the local baitfish, or something brighter for better visibility during dim conditions. Although it is the sound and movement on top of the water that really attracts striped bass, so in theory any color will work.
You can cast even small poppers a country mile thanks to their weight, but working them properly takes a little bit of practice. They should be retrieved in short quick bursts across the top of the water, causing the lure to pop and stir up a lot of surface commotion. Fish these right and you'll be rewarded with an adrenaline pumping dramatic surface strike.
---
3. Prop Baits
These lures are the first ones to tie on in the early morning. They are great at attracting the attention of sleepy stripers in the low light of morning, or just before sunset. Reach for a prop bait when it's overcast and rainy, or if there is a bit of chop on the water.
Like poppers, prop baits create a lot of commotion on the surface of the water. But they are a little simpler to use. Just cast and retrieve. The little propeller, from which the lures get their name, does the rest for you.
---
4. Crankbaits
There are several styles of crankbaits, but the most popular for catching striped bass are the lipless rattlers and diving plugs.
Lipless rattlers have a built-in rattle that sends out vibration as it moves through the water. They are especially good for nighttime fishing freshwater in the spring and early fall. Cast and reel them straight through schools of baitfish. But, at a speed that keeps them just below the surface of the water.
Diving plugs rest on top of the water when you cast, but then dive under when you begin to reel. Depending on the design, diving plugs may run just below the surface, or as deep as 20 to 30 feet. Resembling long thin baitfish, diving plugs have a built-in lip that creates a realistic side-to-side swimming motion when retrieved. Most diving plugs dangle a slew of nasty treble hooks. So even if a passing striper even thinks about striking your lure, he's going to get hooked.
Nerd Tip: Diving Plugs work well for both freshwater and saltwater striped bass. You should try to match the colors on the lure to whatever the local fish are dining on, although you can get away with using the brighter, flashier neon colors when fishing saltwater. Chartreuse and bright orange seem to work especially well in the surf where the extra pop of color really works for catching the striper's attention.
---
5. Needle Lures
Often considered the favorite lure for surf fishing, needle lures are often called "lazy lures" because the angler doesn't have to do anything special to fish it. Just cast and retrieve. Even though there is no built-in wiggle or darting action. These lures begin to sink as soon as they hit the water. But, as you retrieve, they work toward the surface as they glide through the water.
Considering how simple needle lures are in both design and technique, you might be surprised at how many variations are available. They come in a vast array of colors, ranging from bright chartreuse to solid black, and they come in all sizes to fit whatever size striped bass you're pursuing.
Nerd Tip: These lures don't do much… they're designed that way. So use them primarily in the surf (or other turbulent water). That way the water will do all the work as you retrieve. Just use a steady retrieve and if you want to get super fancy… lift the tip of the rod a bit from time to time.
---
6. Spoons (and Blades)
Made of bright flashy metal, these lures vaguely resemble the kitchen utensils from which they get their name. They are versatile for catching stripers and can be fished in a variety of ways.
You can use them with a straight and steady retrieve through feeding schools of striped bass. You can also jig them up and down around pier pilings.
They are effective when fished under lights for exciting nighttime fishing. They also make great trolling lures when dragged behind boats. You can troll them either with a downrigger or straight off the boat poles.
Nerd Tip: Blades cast like a bullet; so when the wind picks up switch to a blade for that extra distance. Also vary the retrieve speed on spoons and blades depending on what fish are up to. Schooling Bass at the water's surface? Cast beyond them and retrieve rapidly. The speed you carry will skim the surface putting the lure right where the action is.
---
7. Sassy Shad (and Similar)
Also called a "rum runner", some might consider the sassy shad a crankbait. But, because it is so popular and effective, it really needs to be in a category of its own. The sassy shad is a soft plastic lure, shaped like shad, that is attached to a weighted lead head. The flat paddle tail of the sassy shad moves realistically back and forth as the lure moves through the water. They are very good at simulating live bait, both because of the realistic profile and lifelike swimming motion.
Sassy shad come in a wide range of sizes and every color of the rainbow. The smaller baits can be fished from a pole just like a crankbait in freshwater. The larger versions, as large as 9 inches long, can be trolled on umbrella rigs. This will resemble schooling baitfish for deep saltwater monsters.
In the past two decades some really successful shad lures have surfaced to compete with the near-ancient Sassy. They're more of an evolutionary step in most cases, but are definitely worth a look. Take a look at Tsunami, Calcutta, and Storm shad. Some of them are better weighted and look ultra realistic in comparison to the Sassy Shad. But… for the price the good old Sassy Shad are tough to beat.
Nerd Tip: Live Shad are probably the most common and successful live bait for stripers. So it makes sense that Sassy Shad (as well as Storm, Tsunami, Panther, and Calcutta) work pretty great. If you're on a budget… grab some pearl and chartreuse shad of your favorite make. And to that add some bucktails to the shopping cart. People in the forums will get crazy "in the weeds" when it comes to Stripers. But, we'd wager that Sassy Shad and bucktails have landed more Striped Bass than any other artificial.
---
Final Thoughts
No matter where you are on the map, if there are striped bass nearby, you can catch them on these lures. Tie one on, and have some fun. The fishing just doesn't get any more exciting than when the stripers are biting.
Andrew's Advice: If I were building a striper-centric tackle box on a budget, I'd skip the higher end stuff. Start shelling out $20 here and $15 there… next thing you know you're hundreds of dollars into lures. Plus…It's hard to beat a selection of bucktails, spoons, and a few shad. Then as you get more into striper fishing… start trying out crankbaits and other higher price options. If money is tight, there are some great soft plastic jerkbaits (work well in clear /shallow waters). The good news is that pretty much all of these lures can be used on other species. So, order up some affordable ones. Then take a crack at landing a striper or two.
---
---